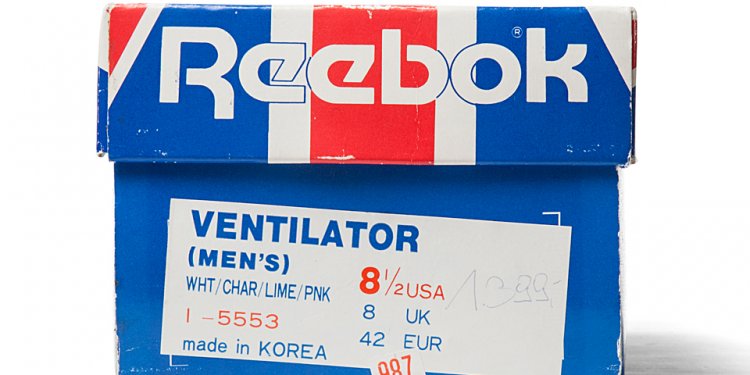 Reebok Technical Support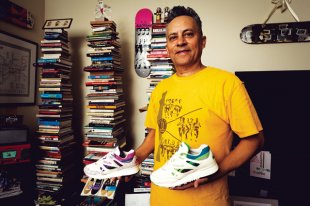 1990 was a good year at Reebok. Pump had just debuted to instant ball-busting acclaim and the moolah was coming in so fast Paul Fireman's eyes must have been spinning like a slot machine in Vegas. With big name athletes like Dennis Rodman, Michael Chang, Boomer Esiason and 'Nique Wilkins endorsing the 'Pump Up and Air Out' campaign, Pump was incandescently successful on a franchise-wide level. Over in the running department, Ralph Serna and his buddies were quietly putting together a crackerjack portfolio of new designs. Seizing on some fresh ideas and bringing rock&roll flair through the use of colour and texture, Ralph's vibrant aesthetic would help catapult the category headlong into a new decade.
Locked and loaded for 1990, the Bok's running catalogue was an impressive line-up. The Sole Trainer 5000, ERS 5000, The Pump Running, Racer-X, Bolton and Inferno all hit the running track along with the hero of our story, the Ventilator. Each shoe had clearly defined performance attributes, sharing a cohesive design vernacular that was a triumph of virginal white mesh, hexagonal chunks and psychotropic day-glo colour pops. The list of technical features made the Space Shuttle look like Kevin Arnold's billycart. Hexalite heel cushioning, the Energy Return System, Hy-Elvaloy midsole foam, Hypalon and Duratrac outsoles, Pellethane stability and CoolMax sockliners was a formidable arsenal at Reebok's disposal.
Within the running range, the Ventilator was billed primarily as a lightweight model – with a twist – in that it also had a pronation device built into the medial side of the shoe. In 1990, this was an experimental new idea, but pronation and supination would become industry buzzwords for the next decade and beyond. Known technically as the 'visible arch support system' and colloquially in Reebok's catalogue copy as 'the green thing in the middle of the shoe', it was in fact a plastic wedge designed to stop feet from collapsing the midsole foam inwards. If you're a runner and your feet naturally pronate, this is quite a handy thing.
The Ventilator's other notable feature was the fine plastic mesh that lined the side of the shoe, a symbolic design detail that references the act of ventilation itself. If you are anything like me, you are excused for thinking the breeze was supplied courtesy of the harmonica-like holes in the side of the arch support wedge. In case you're wondering, those holes don't go anywhere or achieve anything. Reebok probably had a tech-name for them, but they're just holes.
We tracked down Ralph Serna, the Ventilator's designer, at his home in California and quizzed him about his memories of working at Reebok. Ralph was a pretty handy runner back in the day, clocking marathons in very respectable times. He was also a hardcore vegetarian punk rocker, running the 1981 Boston marathon in 2:14:16 to claim the title of the 'World's Fastest Mohawk over 26 miles.' That background (running, not punk rock) was more than useful knowledge and informed Ralph's intuitive approach to shoe design. After a few years out in Pusan, Korea, where he survived on a robust diet of white rice, Ralph was pretty handy with his chopsticks. He had plenty of time to work on his design and illustration skills, so by the time he had finagled his way back to Reebok HQ in the US, he was primed and ready to unleash the Ventilator on the world.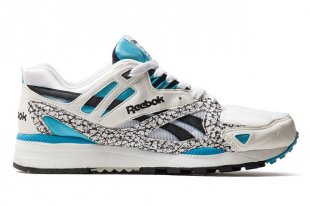 Ralph told us he designed the entire Reebok running class of 1990, except for the ERS 5000. Somewhat surprisingly, he also told us his original name for the Ventilator was the 'Terminator', which was rejected, probably because Nike had beaten him to the punch. Like a randy raver, Ralph was also quite partial to fluoro colours. Since he was also designing Reebok's running apparel at the same time as doing the shoes, he was able to synchronise complete outfits from head-to-toe. Those freewheeling ideas came thick and fast and there was simply no time to hit the pause button. As Ralph told us, 'The teams were smaller then and we could just decide these things and it would happen. The team was basically four people! So it was very easy to say, 'Let's call that material shark skin and it would be done in five minutes, because we were just flying by the seat of our pants. Today they probably have a committee go through a week of meetings to decide the same thing.'
Speaking of which, we were dying to know what was up with that crazy elephant print material used on the Ventilator. Subsequent retros of the shoe have never quite been able to faithfully replicate the debossed texture of the OG. Ralph recalled he originally thought the leather was more like shark-skin. 'We found this material that had dark veins running through it, which I thought happened to look like shark-skin. I wanted to add some colour to the shoe without adding a big block of material. It worked really well and I always liked that unique aspect of the shoe, it made it really different to all the other Reebok runners I was working on.'
Flush with bravado and 90s excess, Reebok's advertising copy for the Ventilator was chock-full of tongue-in-cheek banter that seems slightly at odds with the shoe's tech-heavy aspirations. 'We call it the Ventilator but we could just as easily have called it the seeyalater!' is funny in that bad-dad-joke kinda way, but it's just not in the same league as calling the arch support 'A bridge over troubled running.' (Garfunkel jokes made a lot more sense in 1990, even if their hit song was already two decades old.) The design of the original press advertisement however was creative and ingenious, the page having been deliberately tilted over on its side, a visual reminder that the shoe was all about stability.
The Ventilator would go on to become a solid sales hit, cementing its status as one of Reebok's unsung heroes. A second variation was subsequently released a few years later with an updated upper. Ralph eventually burned out from doing both the apparel and runners, and moved on to new pastures within Reebok and beyond. Luckily for us, he was a mad collector. All through his career he stashed away his design sketches, mood boards and quite a few of his original prototypes. Thanks to Ralph's hoarding, we are able to share the complete ensemble of OG vintage Ventilators with you in this feature.
Share this article
Related Posts