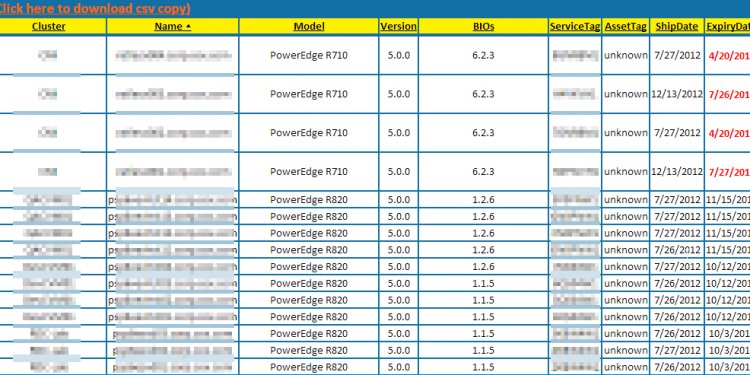 Dell Support warranty Service tag
Dell warrants that all Dell KACE or KACE- branded hardware products delivered by or on behalf of Dell to a licensed end user ("KACE Hardware") will be free from defects in materials and workmanship for a period of 3 years from the date of shipment to the end user.
This limited hardware warranty does not cover:
Software, including the operating system, KBOX Agent software, and software added to the KACE Hardware products through our factory-integration system, third-party software, or the reloading of software.
Problems that result from: External causes such as accident, abuse, misuse, or problems with electrical power Servicing not authorized by Dell; Usage that is not in accordance with product instructions; Failure to follow the product instructions or failure to perform preventive maintenance ; Problems caused by using accessories, parts, or components not supplied by Dell; Products with missing or altered Service Tags or serial numbers; Products for which Dell has not received payment; or Normal wear and tear.
Alterations to the original factory configured KBOX hardware and software are not supported and may void the product warranty. Such modifications include but are not necessarily limited to, modification of power supplies, memory, network interface cards, hard drives or BIOS. Dell may require that the original configuration be restored prior to providing technical support.
DELL'S RESPONSIBILITY FOR DEFECTS IN MATERIALS OR WORKMANSHIP IS LIMITED TO REPAIR OR REPLACEMENT OF THE PRODUCT AS SET FORTH IN THIS WARRANTY STATEMENT. EXCEPT FOR THE LIMITED WARRANTY EXPRESSLY STATED ABOVE FOR KACE HARDWARE, DELL MAKES NO WARRANTIES, EXPRESSED OR IMPLIED, INCLUDING BUT NOT LIMITED TO ANY WARRANTY (1) OF MERCHANTABILITY, FITNESS FOR A PARTICULAR PURPOSE, PERFORMANCE, SUITABILITY, OR NON-INFRINGEMENT; OR (2) REGARDING THE RESULTS TO BE OBTAINED FROM THE PRODUCT. DELL EXPRESSLY DISCLAIMS ALL WARRANTIES NOT STATED IN THIS LIMITED WARRANTY. ANY IMPLIED WARRANTIES THAT MAY BE IMPOSED BY LAW ARE LIMITED IN DURATION TO THE LIMITED WARRANTY PERIOD. SOME STATES DO NOT ALLOW THE EXCLUSION OF CERTAIN IMPLIED WARRANTIES OR THE LIMITATIONS ON HOW LONG AN IMPLIED WARRANTY LASTS, SO THIS LIMITATION MAY NOT APPLY TO YOU.
WE DO NOT ACCEPT LIABILITY BEYOND THE REMEDIES PROVIDED FOR IN THIS LIMITED HARDWARE WARRANTY OR FOR CONSEQUENTIAL OR INCIDENTAL DAMAGES, INCLUDING, WITHOUT LIMITATION, ANY LIABILITY FOR THIRD-PARTY CLAIMS AGAINST YOU FOR DAMAGES, FOR PRODUCTS NOT BEING AVAILABLE FOR USE, OR FOR LOST DATA OR LOST SOFTWARE. OUR LIABILITY WILL BE NO MORE THAN THE AMOUNT YOU PAID FOR THE PRODUCT THAT IS THE SUBJECT OF A CLAIM. THIS IS THE MAXIMUM AMOUNT FOR WHICH WE ARE RESPONSIBLE.
SOME STATES DO NOT ALLOW THE EXCLUSION OR LIMITATION OF INCIDENTAL OR CONSEQUENTIAL DAMAGES, SO THE ABOVE LIMITATION OR EXCLUSION MAY NOT APPLY TO YOU.
What do I do if I need warranty service?
What will Dell do?
During the limited hardware warranty period, Dell or its authorized representative will repair any KACE Hardware products that prove to be defective in materials or workmanship. If Dell or its authorized representative is not able to repair the product, we will replace it with a comparable product that is new or refurbished.
If we determine that the problem is not covered under this warranty, we will notify you and inform you of service alternatives that are available to you on a fee basis.
NOTE: YOU SHOULD MAKE PERIODIC BACKUP COPIES OF THE DATA STORED ON YOUR PRODUCT ON THE STORAGE MEDIUM OF YOUR CHOOSING AS A PRECAUTION AGAINST POSSIBLE FAILURES, ALTERATIONS, OR LOSS OF DATA. BEFORE RETURNING ANY PRODUCT FOR SERVICE, BE SURE TO BACK UP DATA AND REMOVE ANY CONFIDENTIAL, PROPRIETARY, OR PERSONAL DATA. DELL IS NOT RESPONSIBLE FOR THE PRESERVATION OF ANY DATA OR THE PROTECTION OF ANY CONFIDENTIAL OR PROPRIETARY INFORMATION CONTAINED IN ANY PRODUCT, NOR IS DELL RESPONSIBLE FOR THE RESTORATION OR REINSTALLATION OF ANY PROGRAMS OR DATA OTHER THAN SOFTWARE INSTALLED BY DELL WHEN THE PRODUCT IS MANUFACTURED.
How will you fix my product?
We use new and refurbished parts made by various manufacturers in performing warranty repairs and in building replacement parts and systems. Refurbished parts and systems are parts or systems that have been returned to Dell, some of which were never used by a customer. All parts and systems are inspected and tested for quality. Replacement parts and systems are covered for the remaining period of the limited hardware warranty for the product you bought. Dell owns all parts removed from repaired products.
May I transfer the limited hardware warranty?
No. Limited hardware warranties on KACE Hardware are not transferrable.
Support and Training
KACE Appliance Installation Support. First time purchasers of KACE Hardware are required to purchase a KACE JumpStart Program at the time of purchase of their initial KACE Hardware. In connection with the KACE JumpStart Program, KACE or a KACE authorized third party will deliver online training to assist you in the installation and basic configuration of the KACE Hardware. This training will also include exercises that enable deployment of KACE Agent Software on up to 150 managed machines as well as instructions on how to successfully deploy KACE Agent Software on the remaining managed machines (if any). The KACE JumpStart Program consists of a fixed number of two hour sessions depending on the specific model and modules purchased.
Standard Appliance JumpStart 2 sessions Standard Bundle JumpStart 4 sessions Enterprise Appliance JumpStart 6 sessions Enterprise Bundle JumpStart 12 sessions
Share this article
Related Posts