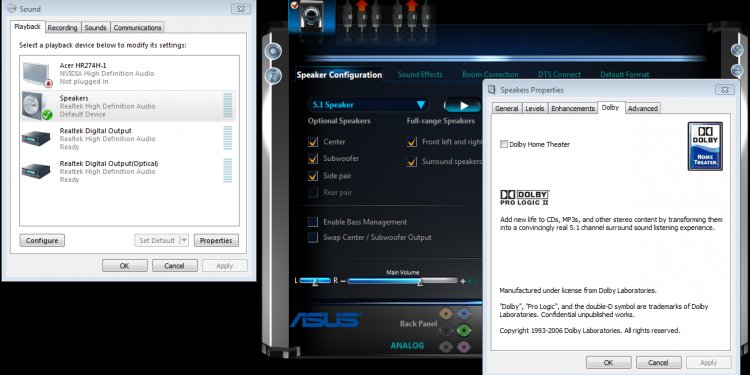 Asus Sound software
Taking Premium Sound Further
The ASUS Golden Ear team went back to the design lab and emerged with SonicMaster Prime – a new and improved version of the best audio on notebook PC.
Move up to a new world of sound on ASUS N46, N56, and N76 notebooks, plus All-in-One ET24 and ET27 PCs.
Get to understand how ASUS SoninMaster Premium can improve the hardware and software technology to enhance the sound experience:
Hardware Upgrades
Even more powerful sound hardware means you get superb sonic gratification, so everything sounds grander. With technology and customers demanding more impressive multimedia, SonicMaster Premium uses only the finest components and designs to redefine auditory pleasure.
See Others:
Dedicated amplifier pumps out up to an amazing 11W of power for higher volume and clarity.
Sound becomes even clearer and more consistent with direct 19V power supply independent of other notebook components.
Big speakers measure 32mm in diameter – that's fit for an actual sound system and 70% larger than the average 18mm of normal notebooks!
Powerful Software Enhancement
Professional tuning turns each song into a masterpiece with every lyric standing out thanks to lifelike vocals. So tune in – it's like going to a concert with extra-precise surround added.
Award-winning professional Waves MaxxAudio sound processing features a fully-customizable equalizer that makes each note your own by tailoring it to your tastes.
Independent third party certification by world-renowned Bang & Olufsen ICEpower® introduces the highest audio standards available, so your sound experiences are never compromised.
Share this article
Related Posts