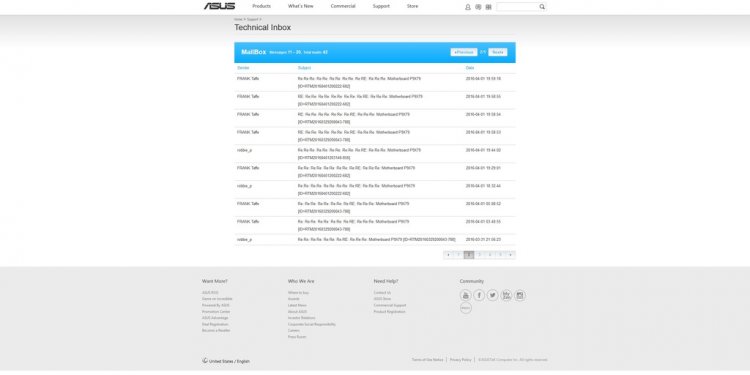 ASUS motherboard RMA process
The purpose of this post and thread is to help make the troubleshooting / RMA process a little easier and to shed light on the proper steps you should take and the proper contacts you can go to when you're in need of assistance.
First, I want to make it known that we have several different levels of support here in the forums and I will clarify who should be contacted depending on the support needed. Those of us with @ASUS in our forum names are ASUS employees who have experience with the troubleshooting / RMA process so we can offer assistance for those cases. Our forum moderators with Team ROG in their tags are volunteers who are an integral part of our community and are happy to provide assistance and guidance as well.
Getting Support on ROG Forums
Step 1: Search the forums for previous posts about the same issue(s) you're experiencing. If you can't find anything about the issue you're having then post about your issue in the sub-forum pertaining to what your issue is. There are many users who stop by the forums just to look for issues and will reply with his/her suggestions or known fix, so for the advancement of universal knowledge please post in the forums about your issue / experience. When posting about your issue, please give as much detail as possible regarding your system configuration and set up, i.e., BIOS version, part number of memory kit, relevant driver set versions, etc. Including a picture or video that helps to describe your problem will also help to decrease the number of back and forth posts trying to get more information. This will also help support your case when you RMA your product. As an example, if you have a Maximus IV Extreme that you're not getting any display on then post in the M4E sub-forum including your system configuration and what troubleshooting steps you've tried, i.e., tried using only 1 memory stick, cleared CMOS, tried MemOk button, etc.

Step 2: If you've already posted in the forum and the feedback you received has not fixed the issue(s), then locate and contact the @ASUS staff or Super Moderators with that description below their usernames for your product. Also, if you do ping any of the ASUS mods or staff, make sure that you include the relevant link of your thread so we can verify and provide feedback within the thread as well as through private message.
Check the next section about contacting your local ASUS support especially for issues specific to your region.

a: If you have a notebook related issue, please contact cl-Albert.
b: If you have an issue with a previous RMA or a previous issue is now recurring after an RMA was completed please continue working with your local ASUS office and following up with them. You may also want to check with cl-Albert or other moderators for advice in resolving it with your local ASUS office.
Step 3: If you do receive a reply to your post in the forum, please post feedback so we know if it helped or not.

ASUS Tech. Support phone/e-mail
Each reseller / retailer of ASUS products will have their own warranty policy, but every ASUS product is also backed by the manufacturer's warranty in the original country of purchase.
If you don't plan to stay in the original country of purchase, it's a good idea to confirm that your product comes with international warranty and that the service center you plan to use will cover your product under the international warranty before you buy.
If you need to return an ASUS product and you're still within the return timeframe at the particular place of purchase then we recommend that you contact the place of purchase first.
You can also try this ASUS contact page .
Remember that it is always good to provide proof of pictures and videos. Specifically, before sending the product in for an RMA you should take pictures of the product because it does happen that our RMA team will receive the product with some sort of physical damage, scratches, etc. which will cause the RMA department to declare the product as having CID (Customer Induced Damage) and require a fee to be paid in order to have the product repaired / replaced. So to be sure this doesn't happen to you, you should take pictures of the product before sending it in. Remember that our latest motherboards offer UEFI bios which allow you to take screen shots simply by pressing F12 and saving them to a FAT32 formatted USB storage device. Every bit helps whether its for troubleshooting, to help provide evidence during an RMA process, or even to show proof that a product may have come back in a worse condition than when it was sent out. This will help eliminate downtime for everyone.
Share this article
Related Posts