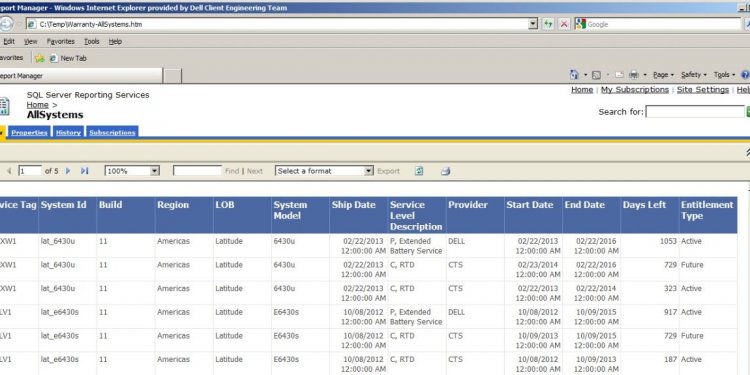 Dell Desktop warranty check
You can find the HP Parts Reference Guide and place or check orders at: or
"
You can access PartSurfer at
HP PartSurfer does not require registration and there is no charge.
HP offers a variety of warranty programs:
HP servers

ProLiant 300 series servers or higher and the BL p-Class line purchased on or after August 15, 2004 are covered by a standard 3-3-3 Next-Business-Day Limited Warranty for customers in North America. This coverage includes three years of labor (on-site or carry-in) and three years of parts coverage with next business day service on-site.

ProLiant 100 series; ML310, ML330 G2, and ML330 G3 servers; DL320, and BL e-Class blade servers are exceptions that offer 1 year limited warranties with terms that vary by the product. For example, a DL145 or a BL e-Class blade warranty offers 1 year of parts, while an ML110 offers 1 year of parts and onsite labor. Warranty terms may vary by region.

Effective May 2005, customer self repair may be mandatory or optional for some parts. Check warranties for details and customer responsibilities.

Refurbished products are refurbished by HP and sold through a reseller or through HP Factory Outlet (HP Works). A one-year parts and carry-in limited warranty cover them.
Spare and option part warranties are covered by a 90-day warranty or the warranty of the computer into which they are installed, whichever is longer. Most options carry a one-year warranty. Once installed in an HP machine, the option assumes the remainder of that machine's warranty or the remainder of the option warranty, whichever is longer. (Some options have three-year warranties.)
Global warranty covers all commercial products purchased on or after August 15, 2004, whether purchased from HP or from an authorized HP reseller. Product warranty terms at the time of the sale will be honored in any of the 150 countries where HP has a service presence.
Pre-failure warranty is the portion of the HP warranty that covers repair or replacement of defective parts (including processors, memory, and hard drives) identified by HP Insight Manager software as pre-failure. A pre-failure state can also be identified from the Integrated Management Display view.
Warranty details for any product are available in the product QuickSpecs or from the HP Worldwide Limited Warranty and Technical Support website at
A warranty check tool displays the details of product warranties for specific serial numbers. Click on warranty check on this web page:
Note: Do not make assumptions about warranty based on a system's serial number. For example, the serial number of a system that has a failed hard drive may show a manufacture date of four years ago but the proof of purchase on the hard drive may show that it is under parts warranty.
Current HP serial numbers follow these rules:
The serial number consists of a 10-character alphanumeric string that uniquely identifies a specific instance of a product within a group identified by a particular product number.
The serial number does not contain an embedded product model representation, referred to as a "configuration code" in pre-merger Compaq.
CC
Country code
Supply site
YWW
Date of manufacture
ZZZZ
Unique sequential identifier
For example, a serial number DEH2381234 is interpreted as follows:
Country code DE = Germany
Supply code H = Herrenberg
Date of manufacture 238 = 2002, week 38
Unit number = 1234 = unit number for that weekly lot
Previous HP serial number
Year of manufacture
WW
Week of manufacture
NNNNN
Compaq 12-digit serial numbers identified each product uniquely. Each number contains the product configuration and the week, month, and year of production. You may encounter two different serial number formats for Compaq products. The old format was in use from 1989 until 1998. The new format was used on Compaq products produced after 1998 and before the merger with HP.
In the 12-digit format, the unit configuration code is located in the product serial number at the fifth, sixth, seventh, and eighth placeholders. The location is the same in both serial number formats.
The quickest way to identify a pre-merger Compaq product from the serial number is to search the Online Agents Reference Set (OARS) using a configuration code. The codes are also located in the illustrated parts section of the Maintenance and Service Guide.
1989 to 1998 Compaq serial number
Compaq unique character
45
BRZ1
Configuration code that defines the specific computer as shipped from HP
0018
Unique sequential identifier (differentiates units produced in the same week)
1998 to 2001 Compaq serial number
1J
Month of manufacture. Numbers 1-9 are assigned to the months from January to September followed by A for October, B for November, and C for December
CJZ8
Day of manufacture
21L
See also:
Share this article
Related Posts